Dharma Teachers of New York Insight Meditation Center
DaRa Williams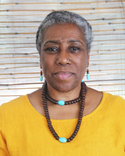 DaRa Williams is a trainer, meditation teacher and psychotherapist. DaRa has been a meditator for the past 25 years and is a practitioner of both Vipassana and Ascension meditation. She is a graduate of the Spirit Rock/Insight Meditation Society Teacher Training Program and is a Guiding Teacher at IMS. She is the Program Manager and a core teacher in the current IMS Teacher Training. DaRa has been a clinician and administrator in the field of Mental Health for over 25 years and currently maintains a private practice in Manhattan. She is a certified trainer and practitioner of Indigenous Focusing-Oriented Therapy and Complex Trauma. DaRa integrates these skills, understandings, wisdom traditions and worldviews in her intention for contributing to the ending of suffering for all beings. "It is my belief that vipassana meditation and the dharma are ideal for transforming suffering, particularly the trauma of oppression and its many vicissitudes-where the chains around our minds and hearts can be broken and dissolved. Awareness and wisdom become the vehicle for freedom and transforming lives."
Elizabeth Mattis Namgyel


Elizabeth Mattis Namgyel has studied and practiced the Buddhadharma for 35 years under the guidance of her teacher and husband Dzigar Kongtrul Rinpoche. She is the retreat master of Samten Ling in Crestone, Colorado and has spent over six years in retreat. She holds a degree in anthropology and an M.A. in Buddhist Studies. She teaches throughout the U.S., Australia, and Europe. She is the author of The Power of an Open Question: The Buddha's Path to Freedom and The Logic of Faith: the Buddhist Path to Finding Certainty Beyond Belief and Doubt.


George Mumford


George Mumford has taught meditation since 1986 in a range of environments, from prisons to Harvard Medical School. He is the author of The Mindful Athlete: Secrets to Pure Performance.
Gina Sharpe


Gina Sharpe is a founding teacher of New York Insight. She discovered the Dharma over 30 years ago and has studied and practiced in Asia and the United States. She was trained as a Retreat Teacher under the mentorship of Jack Kornfield. She teaches at Retreat Centers and meditation communities around the United States, including at a maximum security prison for women. She holds two meditation classes in Westchester County, New York.
Gregory Kramer


Gregory has been teaching meditation since 1980. He developed the practice of Insight Dialogue, offering retreats worldwide and authoring books including Insight Dialogue: The Interpersonal Path to Freedom and Dharma Contemplation: Meditating Together with Wisdom Texts.
Guy Armstrong


What has always engaged me is working with practitioners who are deepening their commitment to the Dharma and then seeing them take a quantum leap in their understanding. My contribution to this commitment is working towards conveying a Theravadan practice with a Mahayana spirit.


Janet Willis



Jan Willis (BA and MA in Philosophy, Cornell University; PhD in Indic and Buddhist Studies, Columbia University, 1976) is Professor of Religion at Wesleyan University in Middletown, Connecticut. She has studied with Tibetan Buddhists in India, Nepal, Switzerland and the U.S. for over four decades, and has taught courses in Buddhism for thirty-nine years. She is the author of The Diamond Light: An Introduction to Tibetan Buddhist Meditation (1972), On Knowing Reality: The Tattvartha Chapter of Asanga's Bodhisattvabhumi (1979), Enlightened Beings: Life Stories from the Ganden Oral Tradition (1995); and the editor of Feminine Ground: Essays on Women and Tibet (1989). Additionally, Willis has published a number of articles and essays on various topics in Buddhism—Buddhist meditation, hagiography, women and Buddhism, and Buddhism and race. In 2001, she authored the memoir, Dreaming Me: An African American Woman's Spiritual Journey (re-issued October 1, 2008 by Wisdom Publications as Dreaming Me: Black, Baptist, and Buddhist—One Woman's Spiritual Journey). In December of 2000, Time magazine named Willis one of six "spiritual innovators for the new millennium." In 2003, she was a recipient of Wesleyan University's Binswanger Prize for Excellence in Teaching. Newsweek magazine's "Spirituality in America" issue in September of 2005 included a profile of her and, in its May 2007 edition, Ebony magazine named Willis one of its "Power 150" most influential African Americans. At the end of 2012, Willis spent several weeks in a Buddhist nunnery in Thailand and conducted research on the diverse ways that Thai women practice Buddhism.